"Ana El Na" Released by the Justice Choir Songbook
I'm proud to be a part of the Justice Choir Songbook, a collection of songs for group singing on social justice issues that is available online for free non-profit use. My round "Ana El Na (Please God Hear Us)" is a prayer for the healing of all our minds and hearts.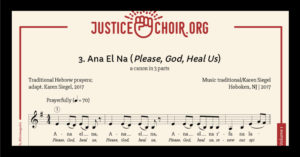 The Hat: Arendt Meets Heidegger — new opera at the Lounge at Dixon Place
Composer/soprano Karen Siegel, baritone Christopher Dylan Herbert, mezzo-soprano Alison Cheeseman, and tenor Alex Guerrero, with conductor Colin Britt and pianist Trudy Chan, premiere the concert version of this one-act opera about the meeting of Hannah Arendt and Martin Heidegger, with a libretto by Zsuzsanna Ardó.  Saturday February 4th, 7:30 pm, The Lounge at Dixon Place, 161A Chrystie St., NY NY 10002.  *Free* Composers Now Festival event.

Khorikos 2015 ORTUS International New Music Competition Winner
I'm pleased that my work Shirei Shira was selected as one of the winners of this competition.  The outstanding ensemble Khorikos performed all the winning works in NYC, and created the following video about Shirei Shira::

POLYPHONOS National Composer Prize
I'm honored to have won the 2014-2015 POLYPHONOS Composition Competition, in the National Composer category.  This anonymous competition was held by the talented and committed group The Esoterics, directed by Eric Banks, and resulted in the commission of the new work Clouds Ephemeral, premiered by the ensemble October, 2015, in Seattle.
Reflections on Espionage wins Boston Metro Opera Merit Award
Awarded to "works that demonstrate unusual content, a unique voice, and/or distinctive compositional talent," this honor involves performances by Boston Metro Opera, dates tba. Below is a performance of the winning work by myself and the Pur ti Miro Quartet at Imaginary Timescapes, a concert of my music in 2013, in a version for voice and string quartet:
Choral Works Published by See•A•Dot 
See•A•Dot Music Publishing Inc., a boutique publisher focusing on contemporary choral music, recently published two of my choral works: Saguaro and Maskil of David (versions for women's chorus and mixed chorus).  An additional version of Maskil of David for men's chorus is forthcoming.  I'm looking forward to working with See-a-Dot's founder Fahad Siadat, who is championing exciting new music for choirs.
Opera-in-Progress The Hat Previewed by Opera On Tap: New Brew
The scene from The Hat was highlighted in a review on the blog Travalanche.

NYC's Opera On Tap presented this scene on their New Brew series at Barbès on Friday, April 4, 2014, featuring the singers Alison Cheeseman, Seth Gilman, Alex Guerrero, and Anne Hiatt; pianist Amir Khosrowpour; and myself as guest conductor.   The Hat imagines the meeting of Hannah Arendt and Martin Heidegger.  I'm collaborating on this project with the librettist Zsuzsanna Ardó, on whose short play (which received stellar reviews) the opera is based.
Confessions from the Blogosphere wins the New York Virtuoso Singers Choral Composition Competition
The New York Virtuoso Singers performed the piece at Merkin Hall <details here>. Hear a performance of the winning work by a vocal quartet (Phillip Cheah, Suzanne Schwing, Dennis Tobenski and myself) at Imaginary Timescapes, a concert of my works on Feb. 16, 2013, below: